D.A.R.E. Crime Prevention

The DARE program brings school kids the tools that they need to resist the rising tide of substance abuse in this country. Through this program, kids get a chance to meet a Deputy up close, and personal. It gives them new insight into the problems that drugs cause, as well as giving them a positive example to follow.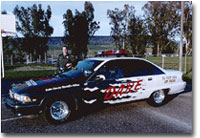 Neighborhood Watch

The Butte County Sheriff's Crime Prevention Unit provides public awareness information and training, as well as administering the Neighborhood Watch program. They are also the home for our STARS program. For more information about Neighborhood Watch, or any of our other crime prevention programs, contact the Crime Prevention office at (530) 538-7822.